About
Dom Evans (they/he) is in their early 40s. Born in Toledo, Ohio, he grew up as a child of the 80s and 90s, with a love for music and film, while immensely enjoying the culture of his youth. An avid singer, Dom started taking voice lessons in 1990. He was taught to sing, at age 2, by his grandmother, Melba, a former singer on the radio. Dom wanted to be an actor for many years, and he took acting classes through the Toledo Franciscan Life Center, his high school, and Bowling Green State University. He was in several musicals throughout his youth and even performed as the narrator in Joseph and the Amazing Technicolor Dreamcoat, his high school musical.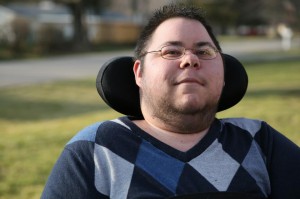 In 2003, Dom was forced to leave Wright State University, where he was studying Theatre and Political Science, following an injury that left him unable to get out of bed on and off for seven years. In 2010, he returned to Wright State, after eight years in Michigan. He briefly attended the University of Michigan (Flint campus) where he spent a year studying Theatre and Acting. When he returned to Wright State, he changed his major to Motion Pictures Production, and set out to receive a degree as a filmmaker. He received his BFA in Motion Picture Production in May 2014 and is two classes shy of receiving a B.A. in Political Science, as well.
Dom is an avid filmmaker, whose primary focus is directing, though he also is active in developing film and media content. He completed his first film, trip in 2014. He is in pre-production for his next film, Inamorata, and has feature film scripts and television show concepts in development. Though Dom has plans for at least one documentary, his true passion is directing narrative films. He works exclusively with his writing partner, screenwriter, Ashtyn Law.
Dom is a passionate human rights activist who has extensive experience fighting for the rights of the disability and LGBTW communities. A trans non-binary activist and spokesperson, he is committed to helping the world understand and accept trans identified individuals. He is also an environmentalist who loves to eat organic, and fights to free whales and dolphins from captivity. Dom is an exceptional public speaker with a charming personality and wit about him. He would love to come speak for you and/or your organization, so contact him if you are interested in having him come share his wisdom at your next meeting or get together.
In his free time, Dom enjoys exploring the city, spending time with family and friends, gaming, reading, comics, watching television and films, listening to music, singing, studying geography and foreign languages, playing in Central Park, and shopping. As of March 2020 Dom and his family live in the suburbs of Detroit, Michigan.
Dom is non-binary, and go specifically by "Dom Evans" as his professional name. Dom is also their legal name.